About
Tribe Quokka's premise is rooted in a friendly "false flag" operation that makes it seem like those boring apes fired the opening salvo and attacked us first! Hostile national governments have been doing it for centuries, so we figured why not us? But don't worry, there are no annoying mortal consequences with our project.
We're provoking a light-hearted rivalry amongst NFT projects that permits us to finally proclaim, "We're All NOT Gonna Make It!"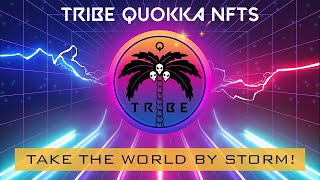 We are a strong-knit team of fervent individuals who care for each other in real life and there are thousands of us that have already pledged allegiance to our quickly growing cause. Each and every community member brings a unique skill set to the Tribe and is encouraged to offer new perspectives and participate in the overall development of our brand.
Together we are united around a common goal and excited about the future of Web 3.0 technologies. Education and transparency are paramount to mainstream market adoption and we cater to doing just that!
Those owning a Tribe Quokka NFT are welcomed into our fellowship with open arms and membership has its perks! We're going to have a blast competing amongst ourselves and against those boring apes, if they have the guts!